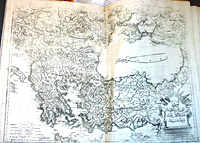 One page from the Cedid Atlas Tercümesi (New Atlas), Üsküdar : Ottoman Military Engineering School Press, 1803-1804.
Translated by Resmi Mustafa Aga from the General Atlas by William Faden (d. 1836), 1778 and later.
This copy, which lacks the title-page and Mahmud Ra'if Efendi's geographic treatise, normally included, came to the Royal Library from Johan Hedenborg's collection in 1832. There are complete copies in the Library of Congress, Princeton and John Carter Brown library, Providence, Rhode Island, but otherwise very few outside Turkey.